ZennoPoster is able to repeat whatever you do manually in your browser
Automate any web tasks – increase your efficiency. Join the community of 15,000+ users and create your first bot today!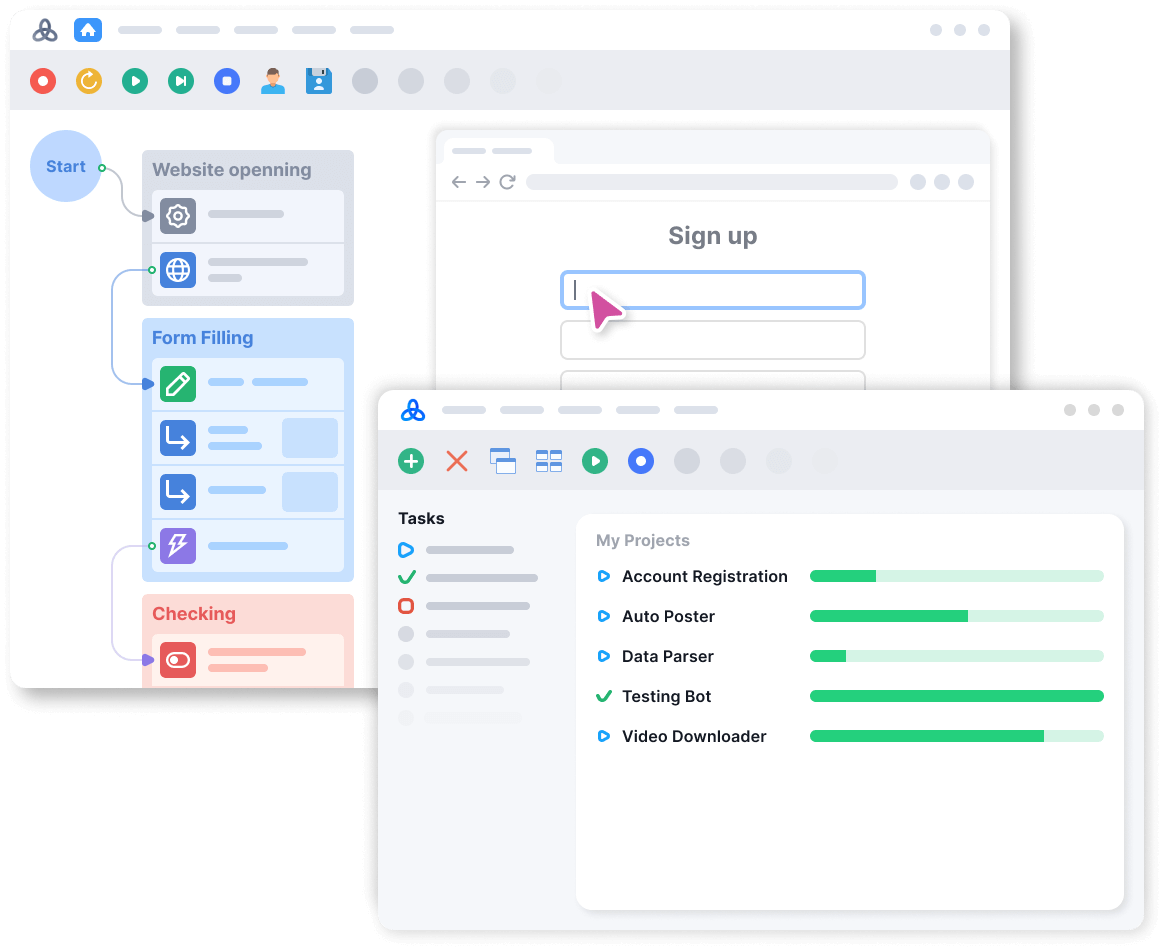 Basic capabilities of ZennoPoster
ZennoPoster mimics actions performed by a human in the browser,
or actions of the entire team of humans (in Pro version)
Repeated actions
Easily record and replay
your actions in browser
Filling the forms
Automatically fill in the forms
entering the required data
Buttons clicking
Automate clicking the
buttons and links
Collecting information
Retrieve data from any
web page
Devices emulation
Emulate any device and its
parameters: PC, smartphone, OS, browser, etc.
Processing all data types
Work with texts, tables,
images, databased and other data
What can ZennoPoster automate?
SEO
Improving behavioral factors
URL Parsing
Link Building
Keywords and search results (SERP) parsing
Domain Parsing
SMM
Boost followers, likes and views
Sending messages
Mass following and mass liking
Audience parsing
Automatic accounts registration
Posting comments
Websites
Parsing of goods and prices
Filling sites by content
Parsing of phones, news, photos, content, e-mail addresses
Marketplaces
Generating reviews
Photo uniqueization
Photo parsing
Parsing of goods and prices
Posting ads
Bulk upload of goods
Online classifieds
Sending messages
Generating reviews
Photo uniqueization
Posting and parsing ads
Automatic account registration
Bulk upload of ads
Other areas
Messengers
Arbitration
Cryptocurrency
Trading
Finance
Fits absolutely everyone
Easy start —
anyone can manage it
The app offers simple and intuitive look and feel. There's a tip and detailed guidance for each function
Codeless
programming
Create bots with minimum effort in a visual designer using drag-and-drop feature
Flexible interface
customization
Customize your app as you see fit: 14 themes, individual menu configuration and selection of windows location
Check out how it works
You perform actions on the site, and the app records them to the project. You can edit the
project, add new steps or logic. Launch the project
and ZennoPoster will do everything for you!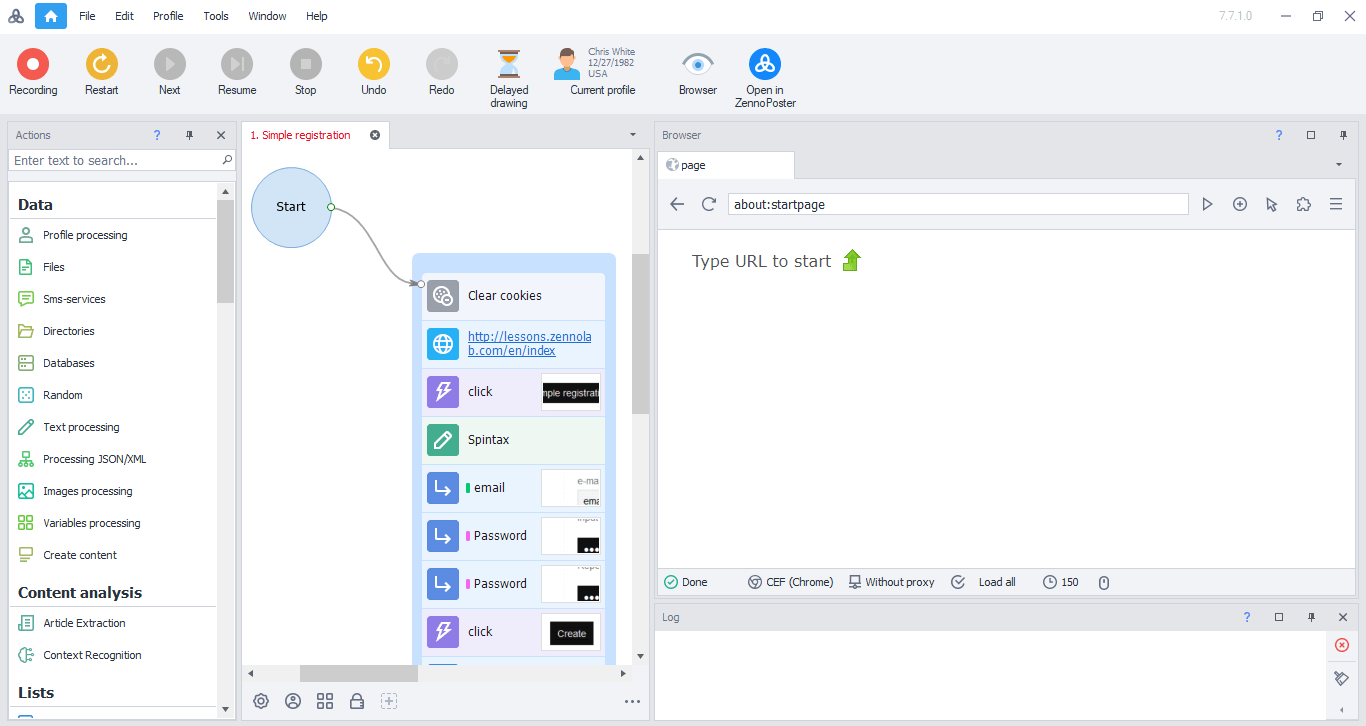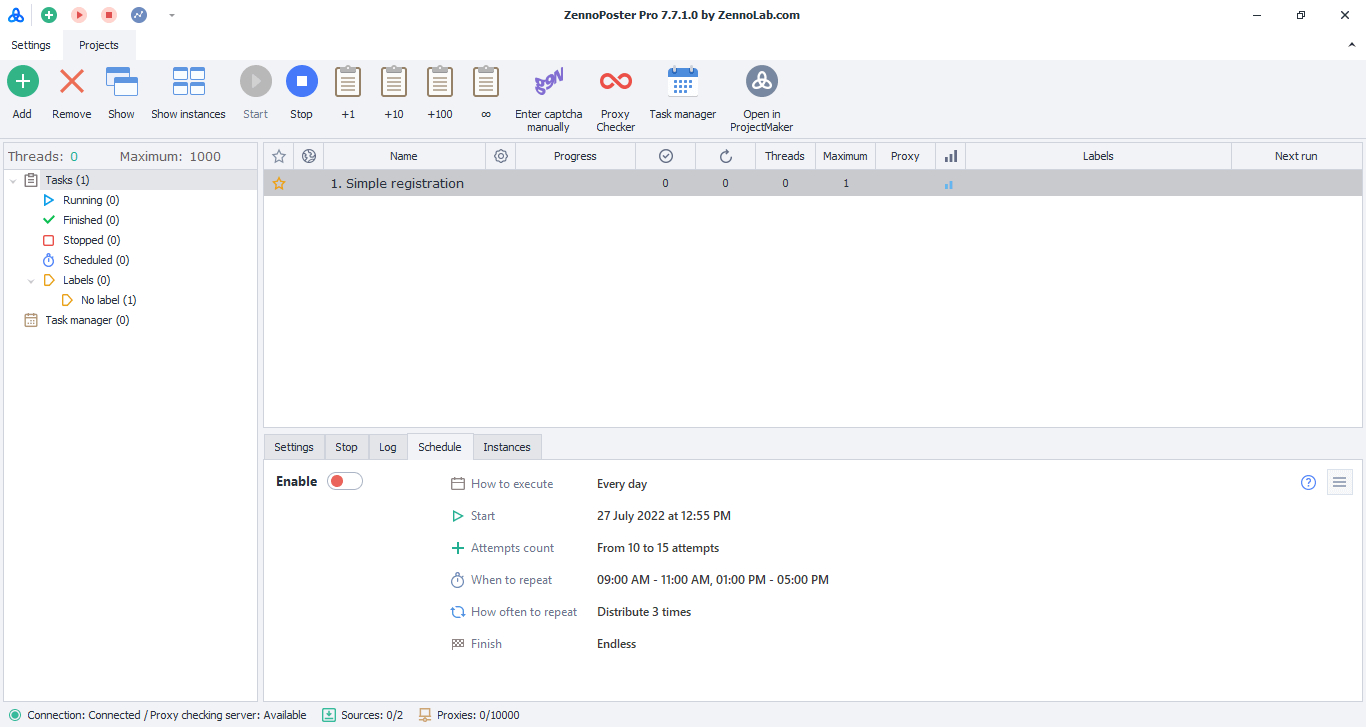 What do you get
Save your time
and effort
ZennoPoster will spend as little as few minutes for operations that used to take hours
Increase
performance
Bots may work at full efficiency 24/7 performing tasks with 100% precision, so that you could focus on things that really matter
Save
money
From now on you don't have to spend money for tens of apps. Now you have a single tool to perform all your tasks
Profit on the sale of
bots
You can perform not only your tasks, but also other users' tasks and earn hundreds thousands of dollars
Powerful technologies
to bring your ideas into fruition
Full browser automation
Fill in the forms, collect data, utilize extensions, examine pages via code inspector in Chrome or Firefox
Multi-threading
Launch your projects in ZennoPoster running in tens and hundreds parallel threads
Antidetection
Emulate any browser settings and prints in just a few mouse clicks
Integration with 35 services
Connect captcha recognition, SMS activation, content creation and proxy services in one click
User emulation system
Enable keyboard, mouse or touch events emulation. Any actions performed on your sites will look as if they were performed by a human
Parsing tools
Collect, process and save data in your preferred format
User data generation
Automatically generate user data: from name to address
Scheduled launch
Set your tasks to launch when you need them
Working with HTTP and FTP
Accelerate your projects using HTTP and FTP queries
Plugins
Create your actions and share with other users
Your own code
Extend capabilities of your app using C#, JavaScript and command line
Bot interface
Design attractive and convenient interfaces for your bots
Web pages analysis
Use the tools to analyze HTML code of pages and traffic
Data management
Operate any data types: from text and images to Google tables with databases
Logical operations
Perform different actions depending on conditions
Proxy checker
Analyze performance, speed, anonymity, country, type and 10+ other parameters of your proxy
Email
Work with mailboxes. Send notifications to your own email, find, analyze and retrieve data from messages
Secure sale of bots
Sell your projects and gain profit without worrying about data leakage or security breach. Your apps are totally safe and secure
Get even more benefits with ZennoPoster
Regular releases
We offer new versions monthly, update existing tools and add new features based on our users' requests
Tech support
We are ready to answer all your questions and help to solve any problem near real time. Just pick up your preferred communication method: tickets, forum, Telegram
Active community
Connect with your peers and share ideas at one of the largest platforms
(over 0.5 mln messages)
15 years
in automation solutions
market
5000
active users
in the community
200000+
customers in 126
countries
About us
«This is a designer that enables you to do whatever you want. ZennoPoster helps you make profit: write a bot and sell licenses for it$ retrieve data from open data sources to order and sell it; successfully implement CPA partner programs sending traffic and getting paid a fee. Download ready projects, examine and rework them according to your needs...»

LIFEHACKER.RU
Online news outlets
«ZennoPoster app is a real boon for webmasters, as it makes virtually all the work for you. You just have to show it once what it needs to do, tell it "Ready, steady, go!" — and get it all done...»
Our customers
feedback
From novice freelancers to large advertising agencies — everyone can use ZennoPoster to improve performance.
This is what our customers say about us.
Considering that my programming knowledge and skills are the lowest of the low, I felt a bit insecure of purchasing the app. However right now I have absolutely no regrets about that – this was really a must-have thing. Kudos to the developers!
Forum on zennolab.com

Yes, the app is totally worth it! This becomes really obvious, when you start implementing projects that you were thinking about earlier, but couldn't find anyone to work on it due to budget limitations. And now the first templates are already in use, traffic comes and goes, money-box grows. Thanks to the developers!
Forum on zennolab.com

This is a very convenient and versatile software, kind of unique thing. Tech Support is gorgeous, let alone friendly forum guys always offering free goodies, contests and useful templates. I've been using the software for over two years now. And this is really one of the most value-adding investments in my whole life. I don't have a slightest regret about purchasing Zennoposter!
MaulTalk.com

I first came across ZennoPoster in 2011, and since than I've been an active user with three paid licenses. Great software, really. It helps solve the major part of automation tasks. I love regular updates, it's epic win! Highly recommended to everyone!
gofuckbiz.com

I can't even tell you how much time and money I've already saved with ZennoPoster. Today routine tasks, like making some adjustments to 10 thousand items on the web site no longer look complicated or even impossible. Now I can't even think of doing all that without ZennoPoster.
Searchengines.guru

Cost
🎅 New Year Sale! Up To 90% Off!
Special prices valid till 29 December!
19 days : 3 hours : 58 min : 23 sec
PROFESSIONAL
$37
$3 / month*
All updates included
---
Unlimited threads

Installation to 3 machines *

Maximum proxy checker speed

Get assistance from Tech Support Center or via email

Forum support
Warranty
If you don't like the app, you will get a refund*
for any reason or no reason within 14 days following the purchase date. * - except cryptocurrency payments
FAQ
If you can manually perform your task in a standard browser, it means that you will be able to automate and repeat it in ZennoPoster.
ZennoPoster is perfect for repeated tasks, where you need intense user engagement ( for instance, information collection from sites, registration on sites, reporting etc.).
Let's review some examples of how users utilize our app.
SEO professionals: parsing of search results, site position monitoring, competitor analysis.
SMM managers: competitor and community analysis, search of the best advertising platforms, parsing of viral content.
CPA professionals: auto correction of rates in teaser networks and contextual ads, bulk ad creation, collection of statistics data.
Site or web store owners: creating activities on sites, content auto posting from other resources, parsing and competitor price monitoring.
Novice developers: quick bot creation for the purposes of idea approbation without digging into scripts and queries.
QA: testing web pages (HTML, CSS and JS), API testing.
Freelancers: automated search of new customers.
If you don't find your name in this list, please don't worry — just send a message to our support service and we will be happy to let you know how ZennoPoster can help to achieve your specific goals!
Yes. We offer refund within 14 days following the purchase date (except cryptocurrency payments).
For the purposes of convenience you may install Standard and Professional versions of the app to several PCs, however you can only run it on one PC at a time. This limitation doesn't concern ProjectMaker. You may create and debug templates even on all PCs in parallel.
Yes. Nearly for everything except cloud platforms, since the app is bound to PC hardware.
Monthly program subscription. It allows you to use the program for a month, then, if you wish, you can renew the subscription an unlimited number of times. If you do not renew your subscription, the program will become unavailable.
No. Reselling of the app is strictly prohibited and may lead to banning of your account.
Discover the power of ZennoPoster and create
your first bot today